Personal Learning Network
A Personal Learning Network (PLN) is a way of mapping connections that you have to find answers, learn new things, contribute your own ideas and collaborate to create new and exciting opportunities. It also maps the online resources that you use to accomplish these tasks. Often these connections are made through social media. These social networks provide tremendous opportunities for teachers to enhance their professional development by networking with each other beyond the boundaries of a school, town or even country.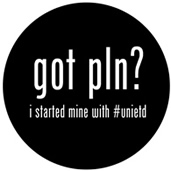 In this course we network via Twitter with the use of #unietd hashtag. Thanks to that current students, graduates, and other people interested in the educational use of the technology can network and learn from each other.

Purpose
Curating is the process of sorting through the vast amounts of content on the web and presenting it in a meaningful and organized way around a specific theme. The intention of this experience is for you to:
Strengthen or build a professional branch of your PLN
Practice curating information from digital resources that show meaningful connections to your field of study and future career
Reflect on how you can connect with resources and other professionals.
Establish your digital presence and grow your professional digital footprint
This assignment aligns with:
These activities engage skills found in thes unit of the Google Educator Level 1 Training Connection:
Unit 2: Expanding Your Access to Help and Learning

Build Your own Learning Network
Assignment
This Personal Learning Network assignment will involve you in strengthening or building a professional branch of your PLN and examining its growth over the semester. You will work on this assignment all semester long. The exercise of growing PLN will be documented in a form of a google slides presenation. Follow all the steps and keep an eye of the course schedule to successfully complete the assignment requirements:
Create Pre-map
A concept map of your Personal Learning Network may be not be complex because it is your initial opportunity to consider these networks. Your map should show what media you use to share information, ask questions, bookmark useful links, how you connect to experts in the field, etc.
You may take a look at the PLNs created by students in previous semesters (use them as an inspiration not a strict guideline)
Building Connections
During the semester, you will be challenged to expand your Personal Learning Network with at least 5 various resources/connections that you have discovered/created. Following are just a few ideas and examples to get you started:

Create Documentation
However you expand your PLN this semester, make sure to document the situation. For each new PLN connection create a short narrative with link to the resource and the visual examples (screenshots, certificates, video recordings ect). You can use the following prompts to reflect and organize your PLN expansion:

Screenshot or attached file of the event, connection, or certificate
Short description of the resource (consider using bullet points)
How did you establish/find/create/use this resource?
How will you benefit from this resource in your future teaching? (Perhaps you benefit from it right now as a student)
link to each of these resources if possible (so others can learn from it as well)
All activities should positively represent you as a pre-service teacher

4. Create Post-map and Reflections
Towards the end of the semester, you will be asked to consider your PLN again. You will expand your initial PLN map to include all of the new professional learning resources that you found/created/established. You will then use your documentation to write a narrative talking about the growth of your PLN and how you will use it in your professional life.

Rules for PLN:
Be a productive member - Pay It Forward
Think before you post
Remember, you are an educator and a public person
Submitting:
Submit the URL to google slides documenting your PLN in the eLearning assignment submission box. Make sure your slideshow is public. Copy and paste the address to avoid errors.
Point Structure (80 points)
Criteria
Points Possible
PLN Pre-Map
10
PLN Post-Map and Reflection on growth
20

Documentation:

narrative that describes what you did to expand your PLN over the semester.

at least 5 resources/connections that you discovered/created.
links to each of these resources.
the visual examples collected by taking the screenshots, or attaching the files documenting your PLN interactions

All activities positively represent you as a pre-service teacher

50
Accurate spelling and grammar throughout
(up to 10%)
Correct URLs included
(10%)
Special Notes
If you already have a Twitter or Pinterest and other social media account that may include explicit content or materials inappropriate for school, consider creating a separate professional account. All activities should positively represent you as a Pre-service teacher.
10% of points possible will be deducted If you submit the wrong URL or your account is not public and your instructor cannot access your profile.